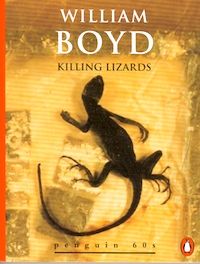 Books by William Boyd
More Fiction
DESCRIPTION

Killing Lizards comprises four short stories by William Boyd in the Penguin 60s series. The stories are: Killing Lizards, Not Yet Jayette, Hardly Ever and Gifts.

Paperback, 84 pages, 45 grammes
Penguin, 1995
ISBN 9780146000195 (0146000196)

CONDITION and NOTES
Very Good: Some minor page and text block browning.

OUR PRICE £0.25 ($0.35, €0.29 - indicative conversion only)

Shipping: £1.95 (UK - other countries will be shown at checkout)

TOTAL £2.20 (including standard delivery to UK addresses)

Out of Stock

You could see whether amazon.co.uk or Biblio.com has a copy in stock.