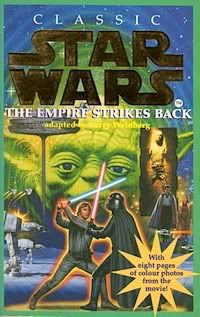 Books by George Lucas
More Fiction
DESCRIPTION

When Luke trains to be a Jedi Knight, his friends Han Solo, Chewbacca, Princess Leia and the droids are captured by the Empire. Can Luke use his Jedi training to confront Darth Vader, lord of the dark side of the Force, and save his friends.

Paperback, 54 pages, 65 grammes
Mammoth, 1996
ISBN 9780749729493 (074972949X)

CONDITION and NOTES
Good: Page browning; some minor staining/grazing.

OUR PRICE £0.50 ($0.69, €0.59 - indicative conversion only)

Shipping: £1.95 (UK - other countries will be shown at checkout)

TOTAL £2.45 (including standard delivery to UK addresses)

Out of Stock

You could see whether amazon.co.uk or Biblio.com has a copy in stock.