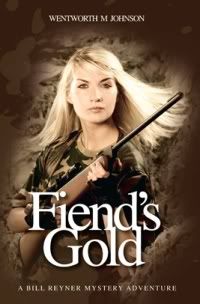 Books by Wentworth M Johnson
About Wentworth M Johnson
More Fiction
DESCRIPTION

The Fiend family fell upon a floundering ship filled with gold. Although gold fever and bandits destroyed the family, they manged to hide their treasure. 200 years later, Bill Reyner inherited the island where the treasure was hidden and made the fatal decision to hunt for the treasure.

New Paperback, 216 pages, 355 grammes
Local Legend Publishing, 2009, 2nd edition
ISBN 9780956103291 (0956103294)

CONDITION and NOTES
New

LIST PRICE £7.99
OUR PRICE £6.99 ($9.58, €8.60 - indicative conversion only)

You save £1.00 (13%)

Shipping: £3.45 (UK - other countries shipping speeds)

TOTAL £10.44 (including standard delivery to UK addresses)

This shop is being relocated and will be closed until further notice.