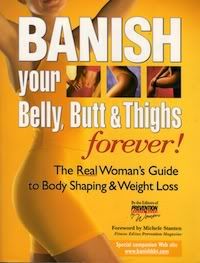 Books by Prevention
More Health
DESCRIPTION

Going beyond basic dieting methods, this includes simple home exercises that target specific muscle groups. Also includes true-life testimonials from women who road tested the program.

Paperback, 342 pages, 970 grammes
Rodale Press, 2000
ISBN 9781579540371 (1579540376)

CONDITION and NOTES
Good: Some minor creasing/bumping.

OUR PRICE £0.75 ($1.04, €0.88 - indicative conversion only)

Shipping: £4.45 (UK - other countries will be shown at checkout)

TOTAL £5.20 (including standard delivery to UK addresses)

Out of Stock

You could see whether amazon.co.uk or Biblio.com has a copy in stock.