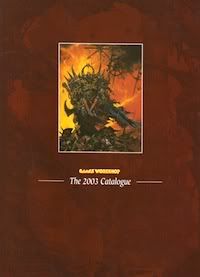 Books by Games Workshop
More Miscellaneous
DESCRIPTION

The Games Workshop hobby is more than just a game. It opens up an entire hobby of collecting, modelling, painting and gaming.

Paperback, 175 pages, 485 grammes
Games Workshop, 2003
ISBN 9781841543321 (1841543322)

CONDITION and NOTES
Good: Some minor creasing/damage to spine; some minor page separation between pages 174 and 175.

OUR PRICE £4.95 ($6.83, €5.79 - indicative conversion only)

Shipping: £3.45 (UK - other countries will be shown at checkout)

TOTAL £8.40 (including standard delivery to UK addresses)

Out of Stock

You could see whether amazon.co.uk or Biblio.com has a copy in stock.