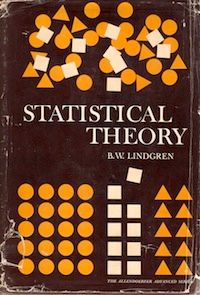 Books by B.W. Lindgren
More Science and Technology
DESCRIPTION

This book is for a year's course in the theory of mathematical statistics. It is assumed that the student has previously had a course in differential and integral calculus.

Hardback with dust jacket, 427 pages, 820 grammes
Macmillan, 1960-1963

CONDITION and NOTES
Good: 1963 Reprint; previous owner`s name. Dust Jacket is torn and in generally poor condition.

OUR PRICE £4.45 ($6.10, €5.47 - indicative conversion only)

Shipping: £3.45 (UK - other countries shipping speeds)

TOTAL £7.90 (including standard delivery to UK addresses)

This shop is being relocated and will be closed until further notice.